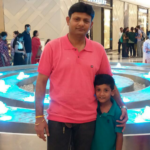 Dr. Soumya Paik is one of finest surgeon we have experienced. In fact, we have met GOD on earth.
On 21st December 2016, evening, our son, Souraaj Sarkar, who is of 4 and a half years only, met with an accident and had a supracondylar fracture on his right arm. We took him to Apollo Gleneagles emergency and admitted him under Dr. Paik. The very next day morning, he did surgery on my son and within 2 days, was released from the hospital. Around a month's duration, the plaster was removed. The broken arm joined. For another month, physiotherapy was suggested by the doctor for normal flexion. From March 2017 onwards, our son became entirely fit and normal.
Thanks a lot Doctor for your valuable suggestions and the care rendered to our son.
Regards,
Souvik Sarkar & Rajashree Sarkar
Souraaj Sarkar
Dr. Soumya Paik is one of the best younger Orthopedic surgeons, as yet to date I have dealt and experienced with. My son, Sauradeep Sarkar was suffering from Wry Neck (due to Torticollis or Sternocleidomastoid in left side) and with his expertise, my only ward was successfully and more than satisfactorily operated by him on 8th June 2016. Besides, Dr. Paik is soulfully considerate, personable, attentive, understanding and accommodating. Above all these, he is an extremely capable surgeon. I feel proud that my only ward has been successfully, satisfactorily and aesthetically operated by him.
Dilip Sarkar

Father of Sauradeep Sarkar

My son, Ayushmaan Ghosh became badly Injured on 17th April 2016. He fall from bed and fractured his left elbow. The bone was split into two pieces. Then I got to know about Dr. Soumya Paik, who is pediatric orthopedic surgeon, from a relative. I was worried when I first saw him because he is very young. But I can say now that he is one of the most efficient doctor in his field. He operated my son on 18th April, 2016 and the surgery is called "Scar-less Surgery". Three pins were inserted in his left elbow. My son had to carry the plaster for one month. Then the plaster was pulled off and those three pins were taken out. Today his left hand movement is absolutely normal and there is no blotch or scratch from the operation except a tiny mark. Above all, Dr. Paik is always connected with you through WhatsApp, message etc. So I can say that he is a doctor on whom we can depend.
Aniruddha Ghosh

Father of Ayusmaan Ghosh

It's a privilege for me to write down this testimonial recommending Dr. Soumya Paik. I am Sk Intaz Ali – father of Sk Ahan Ali, glad to share this story to all of you, whose family are going through the same situation like us. Ahan was born with deformed legs and after consulting a number of surgeons, Dr. Paik put back the smiles on our face again as the operation was successful and Ahan completely recovered after a week. Thanks to Dr. Paik, I'm sharing this story with all of you out there who are facing or dealing with a problem like us. Hope you & your kid will soon recover from the trauma & will have a happy future ahead.
Sk Intaz Ali

Father of Sk Ahan Ali