Kolkata is the Best Option for Pediatric Orthopaedic Surgery |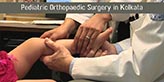 The rapid advancement in communication technologies has enabled patients to avail healthcare services remotely without visiting a hospital or clinic in person. But a number of recent studies have highlighted the consistent increase in the healthcare costs and health premiums, particularly in middle east countries, has made it essential for the people to explore ways to avail high quality healthcare services at affordable rates. Also, the lack of quality infrastructure in neighbor countries like Bangladesh, has made specialized healthcare service costs sky rocket in recent years which has led to immense growth of medical tourism industry in India.
According to The Economic Times, "As healthcare turns costlier in developed countries, India's medical tourism market is expected to more than double in size from USD 3 billion at present to around USD 8 billion by 2020, a report says." While Indian medical tourism industry is a lot cheaper compared to the mentioned countries, an international visitor has also option to choose from a number of medical tourism destinations in India. But the quality and effectiveness of healthcare services available in each Indian medical tourism destination differ. Hence, the smart visitor should always consider several factors to pick the right medical tourism destination in India.
A number of studies have highlighted that Mumbai has emerged as a popular medical tourism destination for international patients, especially from Bangladesh and Middle East, for orthopedic treatments related to kids. But an international patient can always save more money while availing better treatment by opting for pediatric orthopedic surgery in Kolkata.
According to the latest Expatisan Cost of Living Index, Mumbai is about 20% more expensive than Kolkata. Hence, an international visitor can avail housing, food, transportation and personal care in Kolkata with 20% less expenditure.
At the same time, the international patient can further visit Kolkata to get the pediatric orthopaedic treatments by nationally renowned & highly qualified Dr Soumya Paik (MBBS, MS – Orthopaedics, DNB – Orthopaedics), and avail the state-of- the-art facilities under his direct supervision. In addition to being exposed to a wide variety of orthopaedic problems and their managements, Dr Soumya Paik also has a keen interest in the orthopaedic problems of paediatric population. He further studied at several national and international institutes that provide specialized training in Paediatric Orthopaedics.
Dr Paik is quite familiar with the latest developments in the field of Paediatric Orthopaedic internationally. The combination of extensive training and adequate exposure makes Dr Paik an expert on a wide variety paediatric orthopaedic treatments and surgeries. Based on his professional experience, Dr Paik perfectly understands the inability of kids to answer medical questions and cooperate with clinical examinations. He combines new technical skills with various treatment options to overcome the shortcomings or inabilities of children who are in growing phase.
Dr Paik further performs pediatric orthopaedic surgery at Kolkata's leading health service providers. Hence, the international patients can always avail all services and facilities associated with pediatric orthopaedic surgery without any hassle. The expertise of Dr Soumya Paik along with the lower cost of living have already helped many global patients to avail high quality pediatric orthopaedic surgery in Kolkata without spending a hefty sum of money.
You can directly contact Dr Soumya Paik through his website and make an appointment. Also, the you can talk to Dr Paik directly on his cell phone and get answered to questions related to pediatric orthopaedic surgery and costs in Kolkata. Book an appointment now!