Is Your Child Suffering From Deformities In His Hands? |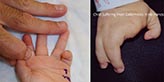 As a concerned parent, you would surely want to give your child the best treatment for his ailment and here we are to help you select the same. Pediatric Orthopedics Kolkata has made is possible to cure your kid's sufferings and that too at an affordable rate. Pediatric orthopedics is a specialized part of medical science and you will not observe many organizations working on this aspect on a large scale.
If your child is suffering from deformities in his hands we would suggest that you take that into notice at the early age itself and take immediate action for the same. Pediatric Orthopedics Kolkata is headed by Dr. Paik. You can contact him through the website and fix appointments for your kid directly.
Their Mission and Vision
Dr. Paik and his team believe that children are growing adults and their bones are at a phase of growth. Thus, if the deformities are taken care of at an early age, then they can grow up to be perfectly normal. Their mission is to cure as many kids as possible and give them a beautiful and normal life for the future.
How they work?
Deformities in hands of your child are a major reason of concern for you. You can contact Pediatric Orthopedics Kolkata for the same and they will be more than glad to help. Deformities in the limbs of young children do not necessarily mean that it has to be operated. Treatment can comprise of simple exercises which the parent can initially help the kid with. If the deformities persist after a few months and no considerable improvements are observed, then the decision of surgery can be undertaken.
For children, in certain cases, specialized treatment is undertaken for hand deformities. Surgery is kept as the last resort. Surgery, in case of such deformities also depends on the severity of the case. Kid's orthopedics have become very popular over the years because of their dedication to the young kids of the society and also due to the latest treatments that has come up in case of pediatrics. In Kolkata it has gained a considerable popularity in a very short time.
Excellent and Affordable
The specialized treatment provided by Pediatric orthopedics Kolkata has become popular not without reason. They have shown their service to mankind and it needs to be mentioned. There is a large group comprising of parents who are now relieved and their kids were blessed with a normal life with the help of these groups of doctors. Dr. Paik aims to cure the young minds of society on a large scale and hence reaches out the all the nooks and corners of the society. The treatment provided by them is comparatively inexpensive and so not much has to think twice before approaching for their kid's treatment with Dr. Paik.
On the website
To make the whole process even more convenient the website has been designed in a simple way. You can fix appointments, clear your doubts and view the different kind of treatments provided by the organization.
Your kid's hand deformities can be cured if you correct them before it's too late. At Pediatric Orthopedics Kolkata have treatments for all such deformities and have been treating patients for a few years now. The success rates of the treatment are high and they have remedies for almost all stages of the disease. So feel free to contact them on their website and talk to Dr. Paik directly or visit his chamber for the suggestion. It's not too late; visit them for immediate treatment opportunities.