How to Keep Child Safe from Common Outdoor Games Injuries? |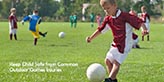 According to several studies, a large percentage of children are addicted to mobile devices, television, and video games. But the smarter parents encourage children to play outside to avail benefits of fresh air and physical exercise. Also, the outdoor games help children to prevent eye problems, stay active and improve social skills.
While playing outdoor sports, children often find riskier sports and games more appealing. Hence, they often sustain varying injuries while playing outdoors. The parents must keep in mind some simple safety tips to keep their children safe from outdoor game injuries. The simple tricks will further help them to encourage kids to play outdoor on a daily basis.
Tips to Protect Your Child from Common Outdoor Game Injuries
Biking Related Injuries
It is common for kids to sustain injuries while bicycling, skateboarding and scootering. You can prevent the biking-related injuries by supervising the child consistently. Also, you must make the kid wear helmet to reduce chances of brain injuries when the he indulges in biking activities. Likewise, you can make the child wear protective gears to prevent injuries while playing football, baseball or softball.
Injuries Caused due to fall from Playground Equipment
Children often sustain injuries due to falling from various playground equipments. It is very difficult for you to prevent this type of playground-related injuries. But you can always keep your kids safe by opting for a playground with shock-absorbing surfaces made of sand, rubber or synthetic.
Sports-Related Injuries
Many children sustain injuries while playing common sports and games. You must prepare the child properly for the outdoor sports to prevent these injuries. For instance, the child must drink adequate water to stay hydrated throughout the physical activity. Likewise, you must make the child stretch before the game to reduce chances of sports-related injuries.
Drowning
Many children nowadays love to swim in varying water bodies. Hence, drowning has become a major cause for injury-related death among kids. Before allowing the child to swim, you need to teach him swimming properly. Also, you must supervise the kid constantly around each water body, while being familiar with lifesaving techniques and CPR.
Don't Allow the Child to Play When He is injured
In addition to saving your child from varying outdoor game injuries, it is also important dissuade him to play outside when he is hurt. If the child gets back to the outdoor game before injury is healed fully, the injury will get worse and take more time to heal. You can even consult a skilled orthopaedic to know the time required to heal the injury completely and get back to practice.
It is also important for parents to pick the right play area to keep child safe from outdoor game injuries. In addition to keeping an eye on the children consistently, the parents must get debris and similar things that may harm the child removed from the playground. Also, they can provide a variety of play tools to the children to indulge in outdoor games more safely.